Mina Okura


Profile
Full name
Okura Mina
Gender
Female
-
Race
Human
Hair color
Brown
Eye color
Purple
Mina Okura (大倉 美菜 Ōkura Mina?) is Ryosuke Kaga's childhood friend and currently the human with whom Quele Sellier has a contract. She gained big bust size early in her childhood, and is now a 92cm F-Cup. Though she knows of Ryosuke's perversion, it doesn't bother her. After finding out the truth about Lisara Restall's identity, she seems okay with it and lets Lisara continue her "business" with Ryosuke. To charge her energy for Quele, she talks about Ryosuke. She made a contract with Quele so she can help Ryosuke. She has very strong feelings for Ryosuke as he protected her a lot when she was younger and showed that he really cares about girls.
Appearance 
Edit
Okura Mina has a modest appearance which somewhat hides her more than desirable body. In the Anime it was revealed that her bust was 92 cm the same as the Idol Iria Fukumunes bust (Iria alters her breasts to this size.) Mina wears glasses over her purple eyes and has shoulder length brown hair with medium to long bangs. The glasses combined with her modest caring nature and gifted body gives off that innocent hot teacher feel
Personality
Edit
Abilities100
Edit
Light Novel
Edit
She is voiced by Kaori Ishihara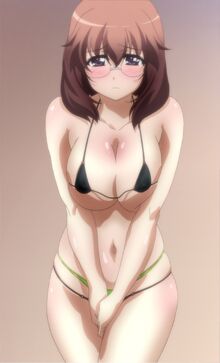 Ad blocker interference detected!
Wikia is a free-to-use site that makes money from advertising. We have a modified experience for viewers using ad blockers

Wikia is not accessible if you've made further modifications. Remove the custom ad blocker rule(s) and the page will load as expected.